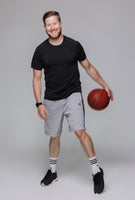 OUR STORY
Jonathan Hodge has coached at all levels (Elementary, Middle School, High School, AAU & College). With 15 years of coaching experience, his resume runs deep in player development. As a player, he second-guessed his abilities and decided not to pursue his college basketball opportunity. That decision FUELS his passion for the players he works with. As a result, his mission is to consistently remind his players that they "CAN" and "WILL." This partnership with his players stretches beyond the court in the relationships that he builds! His clients have went on to play professionally and collegiately at the Division 1, 2 & 3 levels as well as within the NAIA ranks. Over ten 2020 clients went on to receive Athletic Scholarships.
See what others are saying...
REAL TRAINING = REAL RESULTS
  All AGES. All ABILITIES.
  Trusted By:
    Youth Programs & Coaches
    High School Players
    College Players
    Pro Players
LEARN MORE ABOUT TRAINING