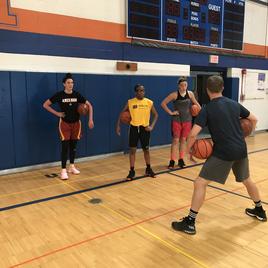 Skill development training individually tailored and DIFFERENTIATED for where the player is "at." Unique and fun approaches, designed for skill development and game enhancement. Modeled and mentored by some of the top trainers in today's game.    
Expand multiple skill sets. 
Increase confidence and

 

🏀

 

IQ
Leave comfort zones for growth!
BUILD mental toughness and GRIT!
Improve the individual everyday
Hodge Hoops brings 15+ years of coaching and 10+ years of teaching to aid in reaching the multiple learning styles players bring to the court.

Our sessions are designed to build ball handling skills, increase footwork, enhance individual moves, improve the ability to attack the basket, elevate shooting skill/technique and much more!
Select an available time, and let's get to work!